Highlands High School

September - 50 Years Ago
San Antonio Express - Sunday, Sept. 13, 1964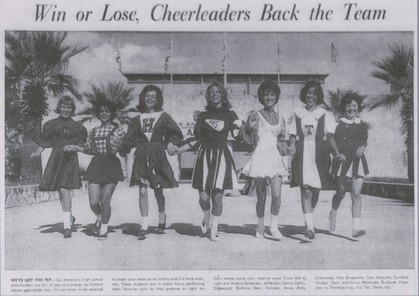 WE'VE GOT THE PEP - San Antonio's high school cheerleaders are full of pep and energy as football season gets under way. It's an honor to be selected to cheer your team on to victory and it's hard work, too. These students put in many hours perfecting their favorite yells as they prepare to fight for their teams come rain, sleet or snow. From left to right are Valerie Anderson, Jefferson; Gloria Cantu, Edgewood; Barbara Dear, Holmes; Anna Avey, Highlands; Nan Bingaman, Sam Houston; Cynthia Valdez, Tech; Sylvia Melendes, Burbank. From now to Thanksgiving, it's "Go Team Go".
****************************************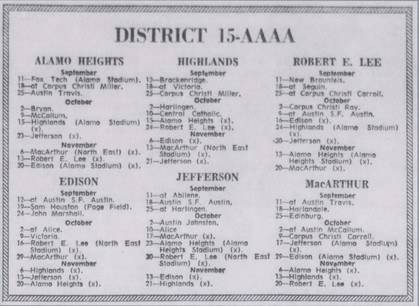 Highlands - September Football Games
Sept. 12 - Brackenridge
Sept. 18 - at Victoria
Sept. 25 - Corpus Christi Miller
*********************************************
San Antonio Express - Saturday, Sept. 12, 1964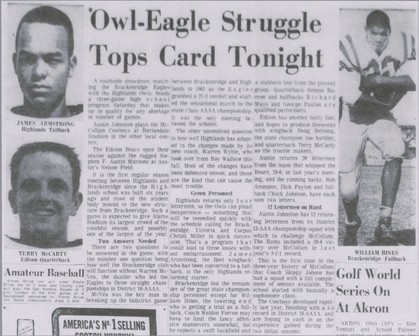 Photos - James Armstrong, Highlands Tailback; Terry McCarty, Edison Quarterback; William Hines, Brackenridge Fullback
A Southside showdown, matching the Brackenridge Eagles with the Highland Owls, heads a three-game high school program Saturday that makes up in quality for any shortage in number of games. Austin Johnston plays the McCollum Cowboys at Harlandale Stadium in the other local contest. The Edison Bears open their season against the rugged Stephen F. Austin Maroons at Austin's Nelson Field. It is the first regular season meeting between Highlands and Brackenridge since the Highlands school was built six years ago and most of the student body moved to the new structure from Brackenridge. Such a game is expected to give Alamo Stadium its largest crowd of the youthful season, and possibly one of the largest of the year.
Two Answers Needed
There are two questions to be answered in the game, with the number one question being how well the Brackenridge club will function without Warren McVea, the dazzler who led the Eagles to three straight championships in District 16-AAAA. McVea was the key man in breaking up the bidistrict game between Brackenridge and Highlands in 1962 as the Eagles grabbed a 21-3 verdict and started the sensational march to the state Class AAAA championship. It was the only meeting between the schools. The other unresolved question is how well Highlands has adapted to the changes made by its new coach, Warren Wyble, who took over from Roy Wallace this fall. Most of the changes have been defensive moves, and those are the kind that can cause the most trouble.
Green Personnel
Highlands returns only four lettermen, so the Owls can plead inexperience - something that will be remedied quickly with the schedule calling for Brackenridge, Victoria and Corpus Christi Miller in quick succession. That's a program that could lead to three losses without embarrassment. James Armstrong, the fleet wingback who has been converted to a tailback, is the only Highlands returning starter. Brackenridge lost the remainder of the great state championship personnel except for William Hines, the towering end, who is getting a trial as a fullback. Coach Weldon Forren may have to limit the fancy offensive maneuvers somewhat, but he expects a swift backfield and a stubborn line from the present group. Quarterback Bennie Ramon and halfbacks, Richard Mays and George Paxton are qualified performers. Edison has another burly line, and hopes to produce fireworks with wingback Doug Belzung, the state champion low hurdler, and quarterback, Terry McCarty as the trouble makers. Austin returns 20 lettermen from the team that whipped the Bears, 20-6, in last year's meeting, and the running backs, Bob Ammann, Dick Payton and fullback Chuck Johnson, have each won two letters.
12 Lettermen on Hand
Austin Johnston has 12 returning lettermen from its District 13-AAA championship squad with which to challenge McCollum. The Rams included a 20-6 victory over McCollum in last year's 8-2-1 record. This is the first time in the three-year history of McCollum that Coach Skippy Jobson has had a squad with a full complement of seniors available. The school started with basically a sophomore class. The Cowboys developed rapidly last year, finishing with a 5-5 record in Distrit 16-AAAA, and are hoping to cash in on the experience gained during the two initial seasons.
***********************************************
Do you remember who won the first game of the season?
Was it Highlands or Brackenridge?
Tomorrow this Home Page will include the newspaper articles reporting the Highlands-Brackenridge game results and the "high school football standings" after the first games of the year.
************************************************
San Antonio Express - Sunday, Sept. 13, 1964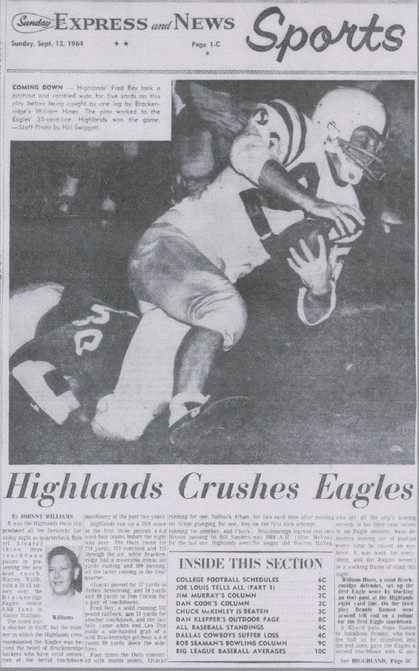 Photo - Coming Down Highlands' Fred Bey took a pitchout and rambled wide for five yards on this play before being caught by one leg by Brackenridge's William Hines. The play worked to the Eagles' 35 yard line. Highlands won the game.
It was the Highlands Owls that produced all the fireworks Saturday night as quarterback Robert Alvarez threw three touchdown passes in presenting the new head coach, Warren Wyble, with a 38-13 victory over the Brackenridge Eagles before 8,950 fans in Alamo Stadium. The score was a shocker in itself, but the manner in which the Highlands crew manhandled the Eagles was beyond the belief of Brackenridge backers who have vivid memories of the torrid touchdown machinery of the last two years. Highlands ran up a 30-0 score in the first three periods and used four teams before the night was over. The Owls raced for 234 yards, 134 overland and 121 through the air, while Brackenridge had a miseraable minus six yards rushing and 109 passing, all the latter coming in the final quarter. Alvarez passsed for 17 yards to James Armstrong, and 14 yards and 40 yards to Don Corson for a pair of touchdowns. Fred Bey, a solid running 152 pound tailback, ran 15 yards for another touchdown, and the last tally came when end Leo Dye made a one-handed grab of a wild Brackenridge pitchout and raced 89 yards down the sidelines. Four times the Owls converted with double points, Alvarez running for one, fullback Athanial Arnic plunging for one, Bey running for another, and Chuck Hixson passing to Bill Sanders for the last one. Highlands went for two each time after missing for the first kick attempt. Brackenridge learned that this was 1964 A.M. (After McVea). No longer did Warren McVea, who set all of the city's scoring records in his three-year career in an Eagle uniform, have defenders moving out of position every time he raised an eyebrow. It was work for everything, and the Eagles weren't in a working frame of mind this night. William Hines, a stout Brackenridge defender, set up the first Eagle score by blocking an Owl punt at the Highlands eight yard line. On the third play Bennie Ramon went around left end on a rollout for the first Eagle touchdown. A 47 yard pass from Ramon to Auralious Brooks, who took the ball as he stumbled into the end zone, gave the Eagles a second touchdown with 47 sec- (see Highlands page 4-C)

************************************************
San Antonio Express - Tuesday, Sept. 25, 1964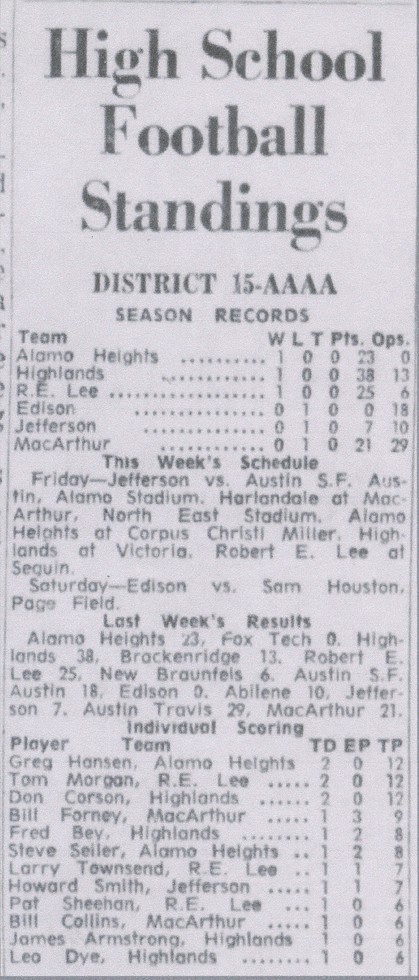 *************************************************
San Antonio Express - Friday, Sept. 18, 1964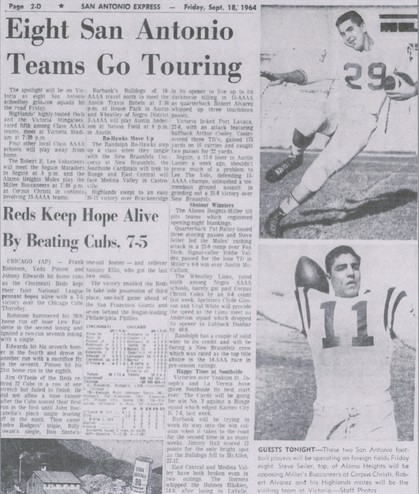 Photo - GUESTS TONIGHT These two San Antonio football players will be operating on foreign fields Friday night. Steve Seiler, top, of Alamo Heights will be opposing Miller's Buccaneers at Corpus Christi.

Robert Alvarez and his Highlands mates will be the visiting team at Victoria.
The spotlight will be on Victoria as eight San Antonio schoolboy gridiron squads hit the road Friday. Highlands' highly touted Owls and the Victoria Stingarees, rated fifth among Class AAAA teams, meet at Victoria Stadium at 7:30 p.m.

Four other local Class AAAA schools will play away from home. The Robert E. Lee Volunteers will meet the Seguin Matadors in Seguin at 8 p.m. and the Alamo Heights Mules play the Miller Buccaneers at 7:30 p.m. at Corpus Christi at contests involving 15 AAAA teams. Burbanks Bulldogs of 16-AAAA travel north to meet the Austin Travis Rebels at 7:30 p.m. at House Park in Austin and Wheatley of Negro District 3-AAAA will play Austin Anderson at Nelson Field at 8:00 p.m. in Austin.
Ro-Hawks Move Up
The Randolph Ro-Hawks step up a class when they tangle with the New Braunfels Unicorns at New Braunfels, the Soutside Cardinals will trek to Runge and East Central will face Medina Valley in Castroville.

Highlands swept to an easy 38-13 victory over Brackenridge in its opener to live up to its darkhorse billing in 15-AAAA as quarterback Robert Alvarez whipped up three touchdown passes.

Victoria licked Port Lavaca, 27-6, with an attack featuring halfback Arthur Cooley. Cooley scored three TD's, gained 173 yards on 10 carries and caught two passes for 22 yards. Seguin, a 12-0 loser to Austin Lanier a week ago, shouldn't prove much of a problem to Lee. The Vols, defending 15-AAAA champs, unleashed a tremendous ground assault in grinding out a 25-6 victory over New Braunfels.
The article continues telling about other schools. Tomorrow this page will post the results of the Highlands-Victoria football game and the high school football standings for that week.
************************************************
San Antonio Express - Saturday, Sept. 19, 1964

Victoria - Several months ago Victoria was rated among the state's top powerhouses this season and Friday night the Stingarees lived up to that advance billing by smashing Highlands' Owls of San Antonio 34-0. This was to have been a close battle - said the experts - but Victoria took charge early and Highlands was never able to generate a serious threat. The Owls' deepest penetration came in the second period when they scooped in a Victoria fumble on the Stingaree 21. But four plays later Victoria took over on downs on its 14. In the second half Highlands could do no better than the Victoria 41. It was the second win of the season for Victoria and, just as in the first game - a 26-7 victory over Port Lavaca - fleet Arthur Cooley scored the first three touchdowns. He got them on runs of 25, 4 and 12 yards showing the big crowd a lot of speed and great variety of tricky moves. Victoria tacked on 13 in the fourth period as substitute quarterback Lewis Thompson passed for 13 and a touchdown for Wesley Hoffman and for four and another score to Mack Dorton. Craig Hyman kicked the first four extra points and a bad snap muffed his fifth chance. Oddly enough,

Highlands' back Fred Bey was the leading ball carrier of the game, clipping off 97 yards on 13 carries.
********************************************************
San Antonio Express - Tuesday, Sept. 22, 1964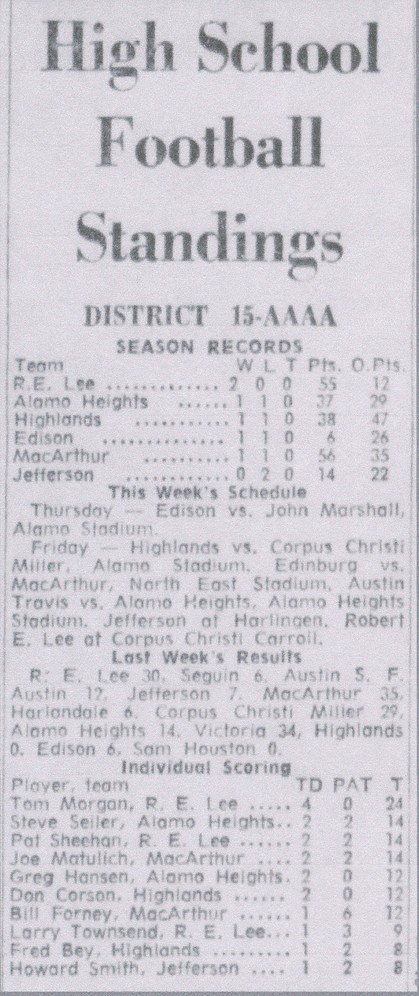 ************************************************
San Antonio Express - Saturday, Sept. 26, 1964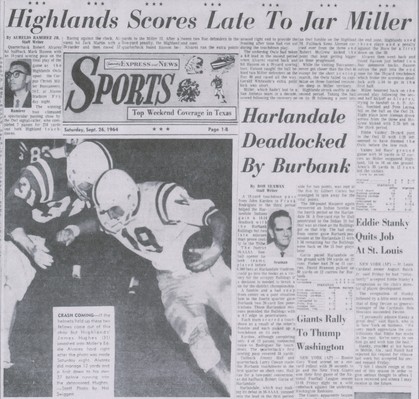 Photo - Crash Coming If the helmets held up, these two fellows came out of this okay but Highlands' James Hughes (31) smashed into Miller's Eddie Alvarez right after the photo was made Saturday night. Alvarez did manage 12 yards and a first down to his own 37 before running into the determined Hughes.
Quarterback Robert Alvarez hit halfback Mark Hasson with an 18-yard scoring pass on the final play of the game as the Highlands Owls upset the Corpus Christi Miller Buccaneers, 14-7, at Alamo Stadium Friday night. The winning toss climaxed a spectacular tossing show by the Owl signal-caller who completed 7 passes for 210 yards and both Highland touchdowns. Racing against the clock, Alvarez hit Jack Martin with a 38-yarder and then raced 17 yards to the Miller 13. After a five-yard penalty, the Highland quarterback found Hasson between two Buc defenders in the end zone. Alvarez ran the extra points around right end to provide the frosting after time had run out during the touchdown play. The underdog Owls had taken a 6-0 lead in the second period when Alvarez reared back and hit Hasson on a 70-yard scoring toss. Hasson caught the ball behind two Miller defenders on the Buc 40 and raced all the way

.

Gerald Whiteside's extra point kick was short. Miller, which hadn't lost to a San Antonio team in a decade, scored following the recovery on an Owl fumble on the Owl 24. Fullback Keno Aleman carried over from the three and Robert McGrew kicked the point that kept getting bigger as time progressed. While the visiting Buccaneers never got closer than the Owl 46 except for the short scoring march, the Owls failed to capitalize on three fumbled recoveries deep in Miller territory. Highlands struck swiftly in the second period. Taking the ball on its 20 following a punt into the end zone, Highlands used three plays and a penalty against the Bucs for a first down on the 30. Alvarez then went back and found Hasson just behind two Buc defensive backs. Hasson outran the pair into the end zone for the 70-yard touchdown which broke the scoreless deadlock with 6:54 to go in the first half. Miller bounced back on the second play following the second half kickoff as Alvarez, trying to handoff to A.D. Arnic, fumbled and Pete Lerma fell on the ball on the Owl 24. Eight plays later Aleman drove across from the three and McGrew kicked with 7:35 left in the third period. Eddie Valdez' 39-yard punt to the Owl 32 with 1:20 left seemed to have doomed the Owls before the late rush. Valdez led Bucs' ground game with 58 yards in 17 carries as Miller outgained Highland, 134 to 86 on the ground. Arnic's 39 yards in 12 runs led the victors.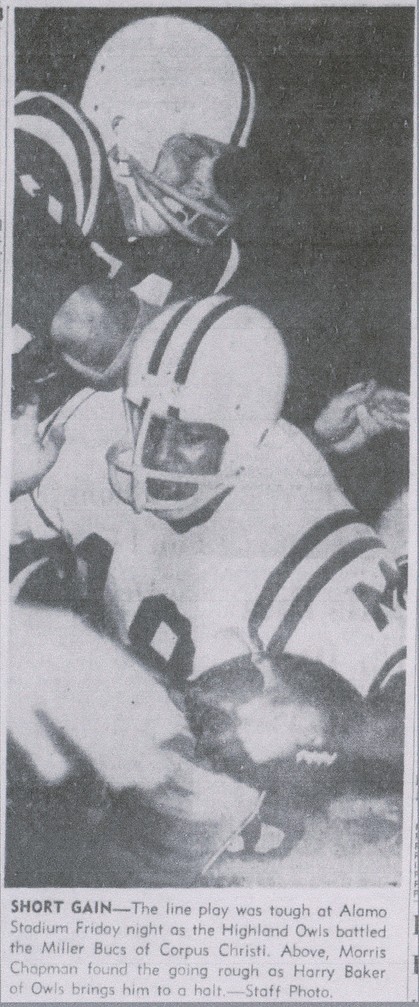 ***********************************************************
San Antonio Express - Tuesday, Sept 29, 1964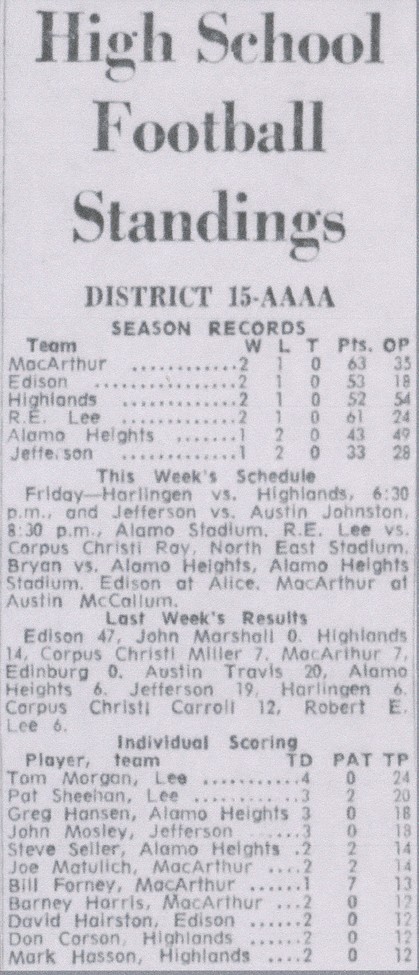 ************************************************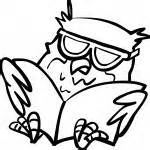 In Other News ... September, 1964 ... 50 Years Ago
San Antonio Express - Friday, Sept. 25, 1964


************************************************
San Antonio Expess - Sunday, Sept. 20, 1964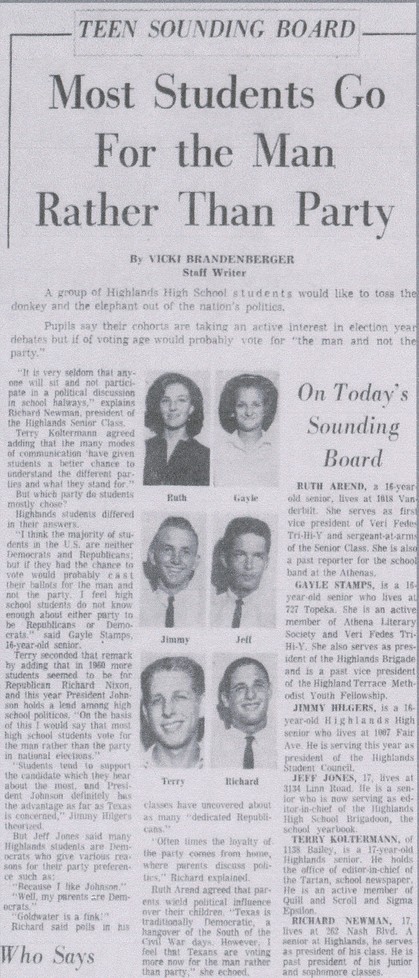 ************************************************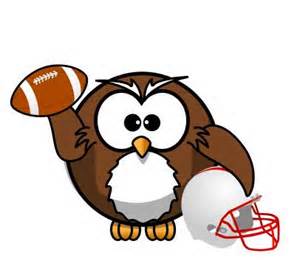 September 2014
In the News ...
WOAI is having a competition between the high schools in San Antonio to determine which school has the best Fight Song.
VOTE for the Best High School Fight Song
Updated: Friday, September 12 2014, 06:20 PM CDT
SAN ANTONIO -- Fight songs are meant to inspire, to bring us together to cheer on our team.

For some, the 'anthems' are such a big part of their high school experience, they can remember the words and the tunes years and even decades later.

Fight songs have been around in the U.S. for more than 120 years, but are common around the globe as well.

But we want to know who has the BEST HIGH SCHOOL FIGHT SONG in our little corner of the world.
And YOUR TOP 4 NOMINEES Are:

-- HARLANDALE HIGH
Cheer, cheer for Harlandale High
Raising our voices up to the sky
Send a volley cheer on high
And shake down the thunder from the sky.

Whether the odds to great or be small
Harlandale High will win over all,
While our loyal sons are marching
Onward to victory.
(Note: We've requested the official lyrics. These were found online.)

-- HIGHLANDS HIGH
Cheer for Highlands, tell all the world, of our loyalty.
We'll keep fighting and never stop, until victory.
We'll play fair and win over all while we cheer with pride.
We are the O-W-L-S, O-W-L-S fighting, fighting side by side.
Fight, fight, fight for the maroon and white.
Fight for victory.
Get the ball and jump right on in show how fierce we'll be.
Keep in mind that we're on your side that way we can't lose
We are the O-W-L-S, O-W-L-S fighting, fighting victory!
Hey!

-- JUDSON HIGH

Above the broad Texas plains
Soar our Rockets ever high,
Bringing Glory
And Honor
As they pass all others by.
Hail to thee our Alma Mater.
Hail to thee Oh Judson High.
With our voices loud and clear,
We will praise thee to the sky.
With our voices loud and clear,
We will praise thee to the sky.

Judson Rockets Fight!
Judson Rockets Fight!
Fight, hey, Red and Gray
Judson Rockets,
Fight, hey, Red and Gray
Judson Rockets Fight!
Judson Rockets Fight!

-- O'CONNOR HIGH
We are the Panthers and we're on the prowl,
We always strive to do our very best.
As we lead our teams to victory,
We will all stand up and cheer:
P-A-N-T-H-E-R-S!
We all wear the Blue & Gold,
It is the colors of our loyalty.
We will never lose our Panther pride.
We are O'Connor High!
The votes have been counted ... and the winner is ...
Harlandale High School.
(announced during the evening news - Wednesday, Sept. 17)
We have been sent a recording of the band playing our fight song.
Soon it will be added to this website.
We have also been sent a recording of our school song, "Hail to Our Highlands"
plus a couple of other surprise recordings
featuring
our
1964-1965 Highlands High School
award winning band.
****************************************