Highlands High School

October 1964 - 50 Years Ago
****************
San Antonio Express - Saturday, Oct 3, 1964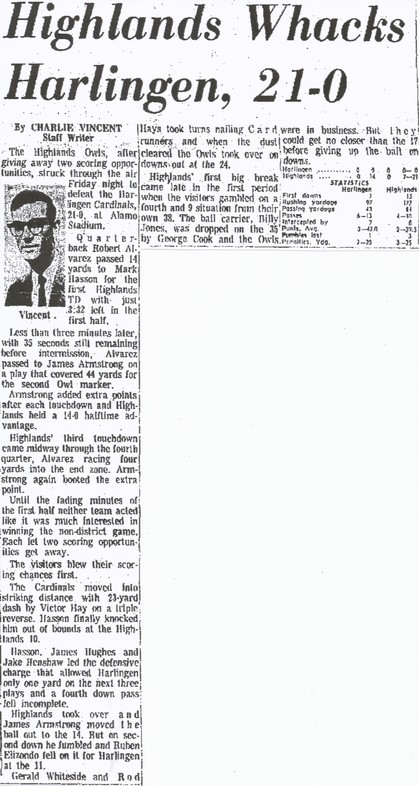 The Highlands Owls, after giving away two scoring opportunities, struck through the air Friday night to defeat the Harlingen Cardinals, 21-0, at Alamo Stadium.
Quarterback Robert Alvarez

passed 14 yards to Mark Hasson for the first Highlands TD with just 3:32 left in the first half.
Less than three minutes later, with 35 seconds still remaining before intermission, Alvarez passed to James Armstrong on a play that covered 44 yards for the second Owl marker.
Armstrong added extra points after each touchdown and Highlands held a 14-0 halftime advantage.
Highlands' third touchdown came midway through the fourth quarter, Alvarez racing four yards into the end zone. Armstrong again booted the extra point.
Until the fading minutes of the first half, neither team acted like it was much interested in winning the non-district game. Each let two scoring opportunities get away.
The visitors blew their scoring chances first.
The Cardinals moved into striking distance with a 23 yard dash by Victor Bay on a triple reverse. Hasson finally knocked him out of bounds at the Highlands 10.
Hasson, James Hughes and Jake Henshaw led the defensive charge that allowed Harlingen only one yard on the next three plays and a fourth down pass fell incomplete.
Highlands took over and James Armstrong moved the ball out to the 14. But on second down he fumbled and Ruben Elizondo fell on it for Harlingen at the 11.
Gerald Whiteside and

Hays

took turns nailing Card runners and when the dust cleared, the Owls took over on downs out at the 24.
Highlands first big break came late in the first period when the visitors gambled on a fourth and 9 situation from their own 38. The ball carrier, Billy Jones, was dropped on the 35 by George Cook and the Owls were in business. But they could get no closer than the 17 before giving up the ball on downs.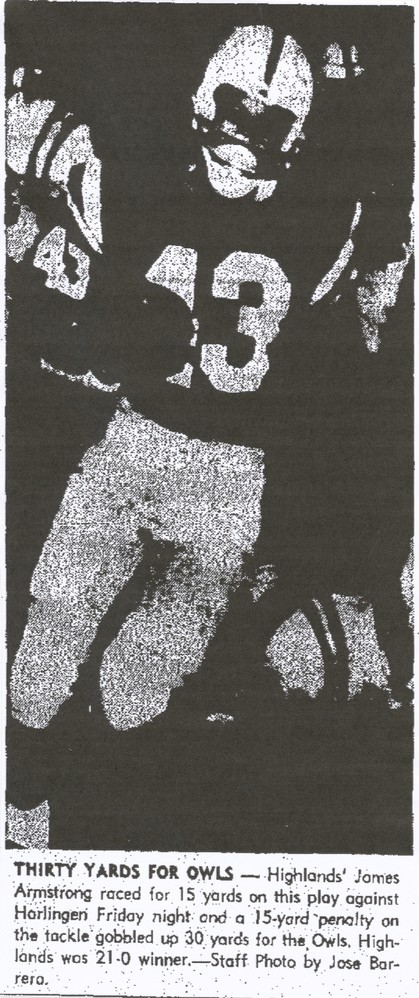 (If anyone has a clearer copy of this newspaper photo of James Armstrong, please contact us and we will display it here instead of this poor copy found on NewspaperArchives.com.)
*********************************
San Antonio Express - Tuesday, Oct. 6, 1964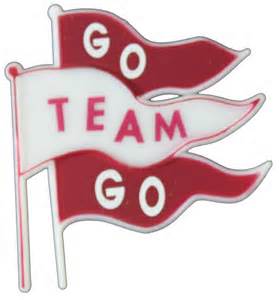 Highlands Fight Song
Cheer for Highlands tell all the world of our loyalty
We'll keep fighting and never stop until victory
We'll play fair and win over all while we cheer with pride
We are the O-W-L-S, O-W-L-S
Fighting, fighting side by side.
Fight, fight, fight for maroon and white, fight for victory
Get the ball and jump right on in, show how fierce you'll be
Keep in mind that we're on your side, that we can not lose
We are the O-W-L-S, O-W-L-S
Fight, fight, fight for victory.