Highlands High School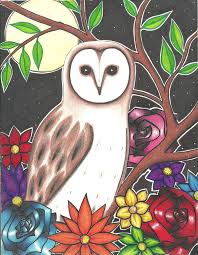 APRIL
50 Years Ago
**********************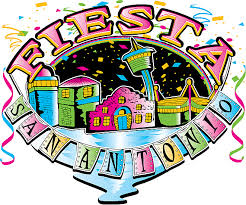 San Antonio Express and News - Sunday, April 11, 1965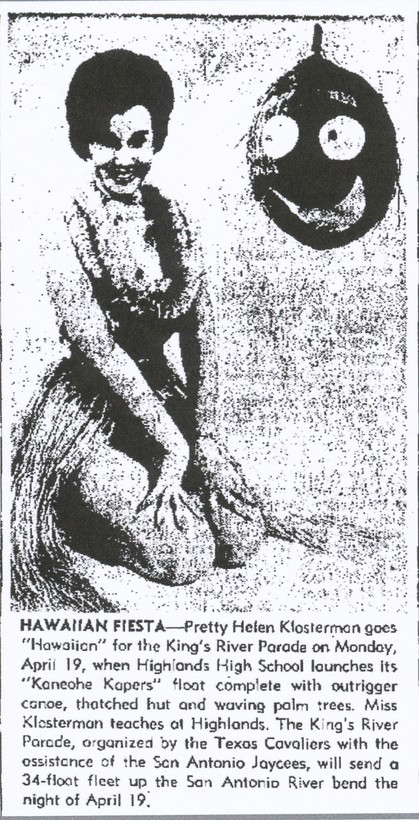 Monday, April 19 - River Parade
We had a float entered in the River Parade. Miss Klostermann rode on this float.
Thursday, April 22 - School Band Festival
Friday, April 23 - Battle of Flowers Parade
The Highlands Brigade and Band marched in this parade.
Saturday, April 24 - Fiesta Flambeau Parade
San Antonio Express - Friday, April 23, 1965

... five paragraphs and then ...
The second largest number of spectators ever turned out for the 28th annual School Band Festival at Alamo Stadium Thursday night.
... three more paragraphs and then ...
Preceding the Marine performance and the grand finale of the local bands were four out-of-town bands and the two local bands honored this year - Highlands and Douglas MacArthur High Schools.
San Antonio Light - Sunday, April 18, 1965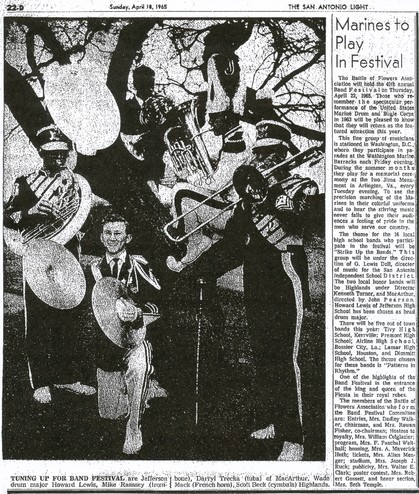 TUNING UP FOR BAND FESTIVAL
are Jefferson drum major Howarad Lewis, Mike Ramsey (trombone), Darryl Trecka (tuba) of MacArthur, Wade Mack (French horn), Scott Beck (cymbals) Highlands.
*****************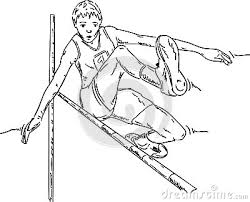 San Antonio Light - Sunday, April 18, 1965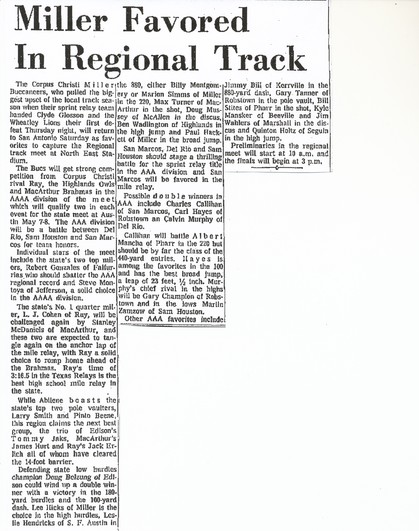 ... five paragraphs then ...
Defending state low hurdles champion Doug Belzung of Edison could wind up a double winner with a victory in the 180-yard hurdles and the 100-yard dash. Lee Hicks of Miller is the choice in the high hurdles, Leslie Hendricks of S. F. Austin in the 880, either Billy Montgomery or Marian Simms of Miller in the 220, Max Turner of MacArthur in the shot, Doug Mussey of McAllen in the discus, Ben Wadlington of Highlands in the high jump and Paul Hackett of Miller in the broad jump.
******************************