Highlands High School

****************************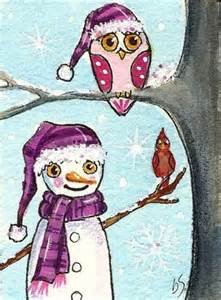 January - 1965
50 Years Ago
***************************
San Antonio Express - Tuesday, Jan. 5, 1965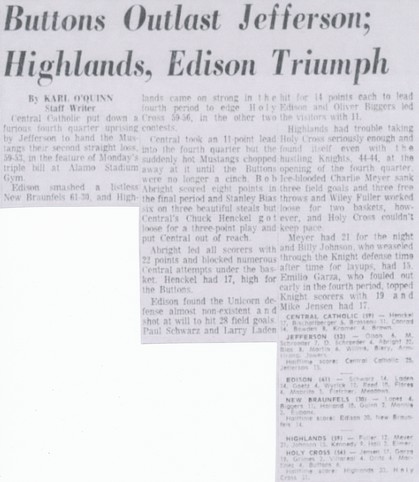 Highlands
had trouble taking Holy Cross seriously enough and found itself even with the hustling Knights, 44-44, at the opening of the fourth quarter. Ice blooded Charlie Meyer sank three field goals and three free throws and Wiley Fuller worked loose for two baskets, however, and Holy Cross couldn't keep pace.
Meyer had 21 for the night and Billy Johnson, who weaseled through the Knight defense time after time for layups, had 15.
HIGHLANDS - (59)
Fuller 12, Meyer 21, Johnson 15, Kennedy 9, Hall 2, Elmer.
*******************
San Antonio Express - Sunday, Jan. 10, 1965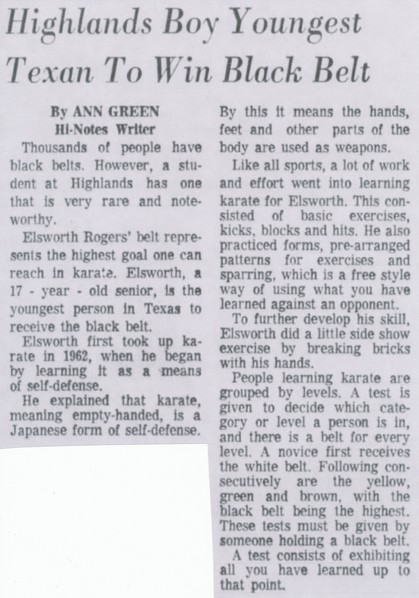 Our classmate, Ann Green , wrote this article about our classmate, Elsworth Rogers, who was the youngest person in Texas to receive a black belt in karate.
*************************
San Antonio Express - Sunday, Jan. 10, 1965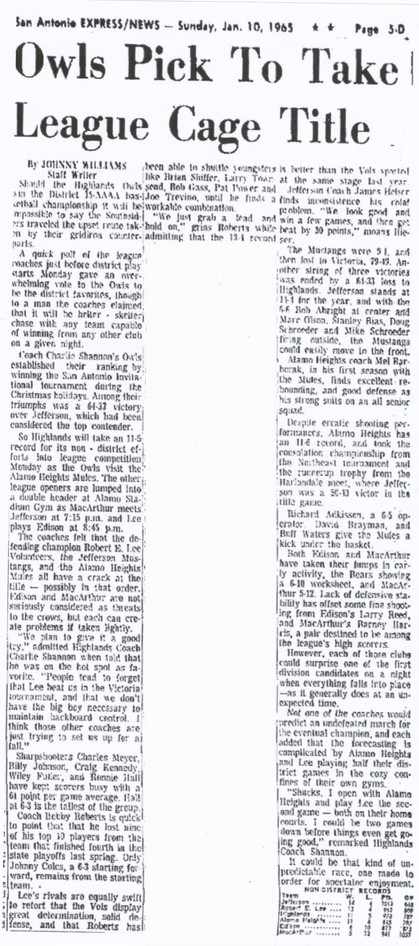 Should the Highlands Owls win the District 15-AAAA basketball championship, it will be impossible to say the Southsiders traveled the upset route taken by their gridiron counterparts.
A quick poll of the league coaches just before district play starts Monday gave an overwhelming vote to the Owls to be the district favorites though to a man the coaches claimed that it would be helter-skelter chase with any team capable of winning from any other club on a given night.
Coach Charlie Shannon's Owls established their ranking by winning the San Antonio Invitational tournament during the Christmas holidays. Among their triumphs was a 64-33 victory over Jefferson, which had been considered the top contender.
So Highlands will take an 11-5 record for its non-district efforts into league competition Monday as the Owls visit the Alamo Heights Mules.
.... paragraph about other schools ....
"We plan to give it a good try," admitted Highlands Coach Charlie Shannon when told that he was on the hot spot as a favorite. "People tend to forget that Lee beat us in the Victoria tournament, and that we don't have the big boy necessary to maintain backboard control. I think those other coaches are trying to set us up for a fall."
Sharpshooters Charles Meyer, Billy Johnson, Craig Kennedy, Wiley Fuller, and Ronnie Hall have kept scorers busy with a 61 point per game average. Hall at 6-3 is the tallest of the group.
.... article continues about other schools ....
"Shucks. I open with Alamo Heights and play Lee the second game -- both on their home courts. I could be two games down before things even get going good," remarked Highlands Coach Shannon.
It could be that kind of unpredictable race, one made to order for spectacular enjoyment.
*********************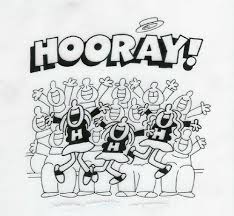 San Antonio Express - Tuesday, Jan. 12, 1965
***************************
San Antonio Light - Wednesday, Jan. 20, 1965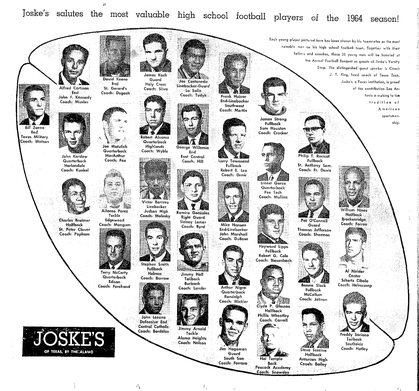 Each young player here has been chosen by his teammates as the most valuable man on his high school football team. Together with their fathers and coaches, these 35 young men will be honored at the Annual Football Banquet as guests of Joske's Varsity Shop. The distinguished guest speaker is Coach J. T. King, head coach of Texas Tech. Joske's, a Texas institution, is proud of the contribution San Antonio is making to the tradition of American sportsmanship.
Robert Alvaraez
Quarterback
Highlands
Coach: Wyble
*****************************
San Antonio Light - Saturday, Jan. 23, 1965
**********************
San Antonio Express - Sunday, Jan. 24, 1965

The postponed Highlands-Lee game has been rescheduled for Friday in the Lee gym and takes the spotlight in this week's schoolboy basketball schedule.
Both teams are undefeated in 15-AAAA action but have important games earlier. Lee (3-0) takes on MacArthur, winless in three league games but an intense rival, Monday and Highlands (3-0) tries dangerous Jefferson (2-2) Tuesday.
******************************