Highlands High School

50 Year Reunion
Updated Information
Due to construction delays, La Villita Assembly Hall will not be the location for our reunion.
Schertz Civic Center has been chosen instead.
More information will be coming in February when the committee meets again at that location to continue planning.
Highlands High School
Class of 1965
50 Year Reunion
August 8, 2015
************************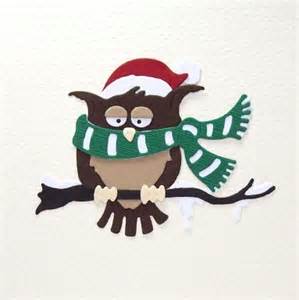 DECEMBER
50 YEARS AGO
******************************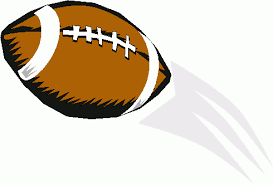 San Antonio Light - Sunday, Dec. 13, 1964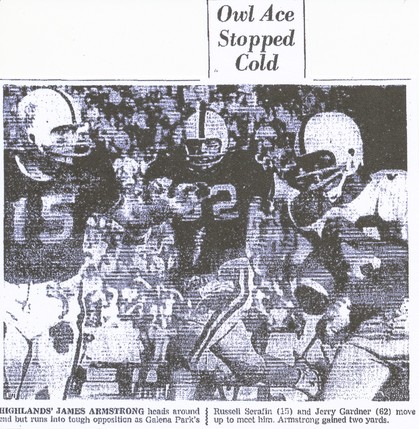 HIGHLANDS' JAMES ARMSTRONG
heads around end but runs into tough opposition as Galena Park's Russell Serafin (15) and Jerry Gardner (62) move up to meet him
. Armstrong
gained two yards.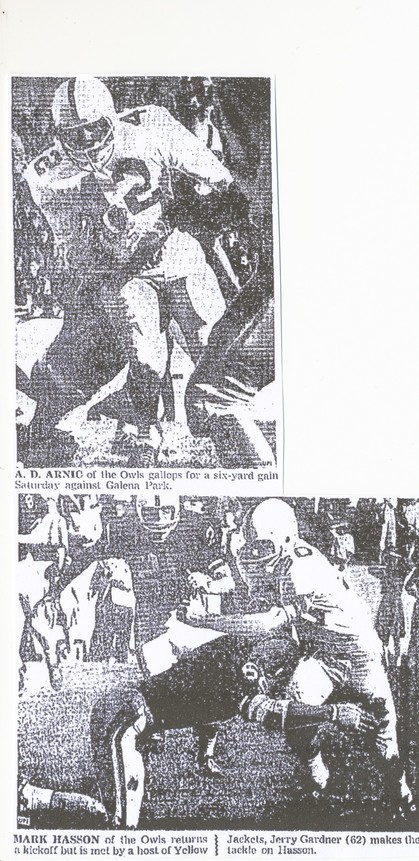 A.D. ARNIC
of the Owls gallops for a six-yard gain Saturday against Galena Park.
MARK HASSON of the Owls returns a kickoff but is met by a host of Yellow Jackets, Jerry Gardner (62) makes the tackle on Hasson.
**************************************
San Antonio Express - Tuesday, Dec. 15, 1964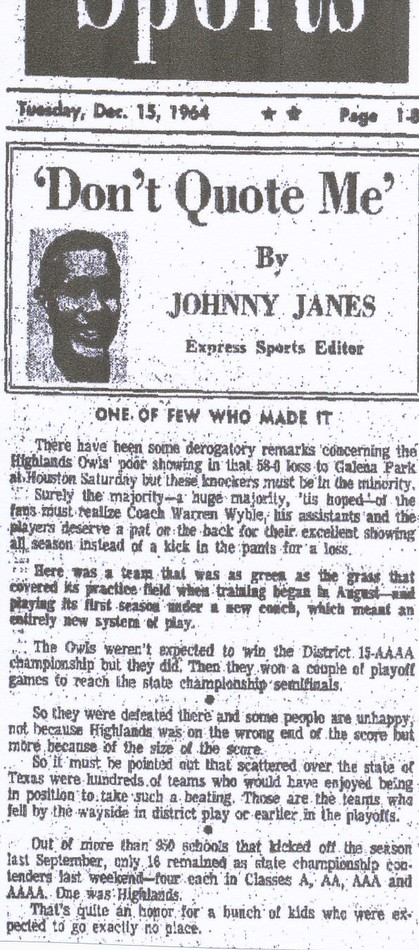 ************************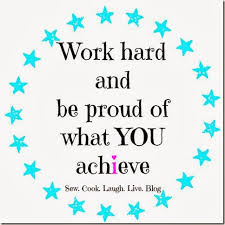 Remembering proudly what the
Highlands High School Football Team achieved
50 years ago ...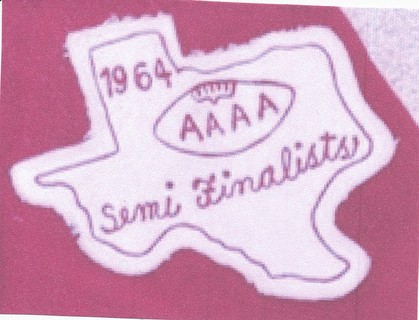 1964 AAAA State Semi Finalists !!!!
****************************
San Antonio Express - Wednesday, Dec. 9, 1964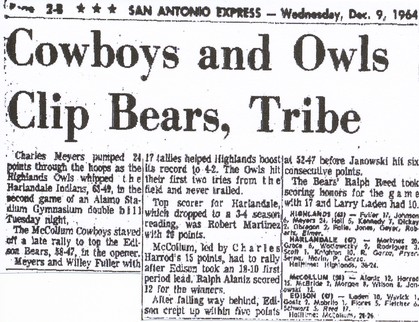 Charles Meyer
pumped 24 points through the hoops as the Highlands Owls whipped the Harlandale Indians, 63-49, in the second game of an Alamo Stadium Gymnasium double bill Tuesday night.
... paragraph about McCollum and Edison ...
Meyers and Wiley Fuller with 17 tallies helped Highlands boost its record to 4-2. The Owls hit their first two tries from the field and never trailed.
... article continues about other schools ...
Highlands
(63) - Fuller 17, Johnson 6, Meyers 24, Hall 5, Kennedy 7, Dickey 7, Obregon 2, Faile, Jones, Geyer, Roberts, Elmer.
*************************
San Antonio Light - Saturday, Dec. 12, 1964

****************************
San Antonio Light - Sunday, Dec. 13, 1964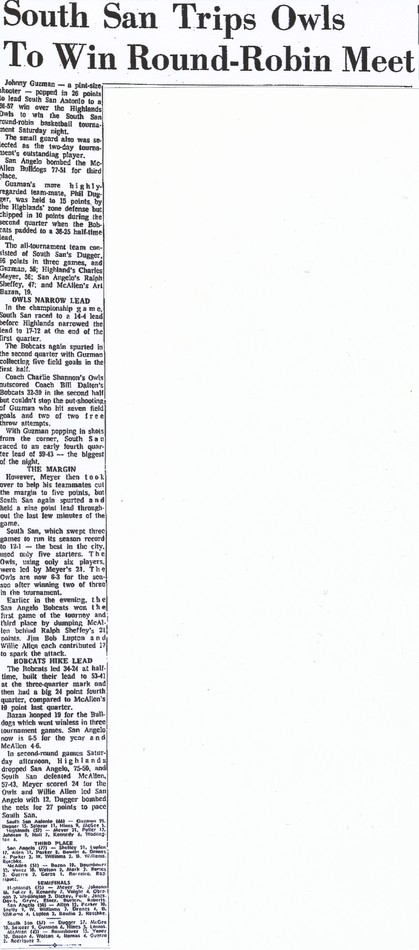 Johnny Guzman - a pint-size shooter - popped in 26 points to lead South San Antonio to a 66-57 win over the Highlands Owls to win the South San round-robin basketball tournament Saturday night.
The small guard also was selected as the two-day tournament's outstanding player.
San Angelo bombed the McAllen Bulldogs 77-51 for third place.
Guzman's more highly regarded team-mate, Phil Dugger, was held to 15 points by the Highlands' zone defense but chipped in 10 points during the second quarter when the Bobcats padded to a 36-25 half-time lead.
The all-tournament team consisted of South San's Dugger, 66 points in three games, and Guzman, 56; Highlands' Charles Meyer, 56; San Angelo's Ralph Sheffey, 47; and McAllen's Art Bazan, 19.
OWLS NARROW LEAD
In the championship game, South San raced to a 14-4 lead before Highlands narrowed the lead to 17-12 at the end of the first quarter.
The Bobcats again spurted in the second quarter with Guzman collecting five field goals in the first half.
Coach Charlie Shannon's Owls outscored Coach Bill Dalton's Bobcats 32-30 in the second half but couldn't stop the out-shooting of Guzman who hit seven field goals and two of two free throw attempts.
With Guzman popping in shots from the corner, South San raced to an early fourth quarter lead of 59-43 -- the biggest of the night.
THE MARGIN
However, Meyer then took over to help his teammates cut the margin to five points, but South San again spurted and held a nine point lead throughout the last few minutes of the game.
South San, which swept three games to run its season record to 12-1 -- the best in the city, used only five starters. The Owls, using only six players, were led by Meyers 21. The Owls are now 6-3 for the season after winning two of three in the tournament.
Earlier in the evening, the San Angelo Bobcats won the first game of the tourney and third place by dumping McAllen behind Ralph Sheffey's 21 points. Jim Bob Lupton and Willie Allen each conributed 17 to spark the attack.
BOBCATS HIKE LEAD
The Bobcats led 34-24 at half-time, built their lead to 53-41 at the threee-quarter mark and then had a big 24 point fourth quarter, compared to McAllen's 10 point last quarter.
Bazan hooped 19 for the Bulldogs which went winless in three tournament games. San Angelo now is 6-5 for the year and McAllen 4-6.
In second-round games Saturday afternoon, Highlands dropped San Angelo, 75-56, and South San defeated McAllen, 57-43. Meyer scored 24 for the Owls and Willie Allen led San Angelo with 12. Dugger bombed the nets for 27 points to pace South San.
Highlands (57) - Meyer 21, Fuller 13, Johnson 9, Hall 7, Kennedy 6, Wadlington 4.
SEMIFINALS
Highlands (75) - Meyer 24, Johnson 16, Fuller 8, Kennedy 7, Voight 4, Obregon 2, Wadlington 2, Dickey, Faile, Jones, Davis, Geyer, Elner, Burton, Roberts.
**********************************

San Antonio Light - Tuesday, Dec. 8, 1964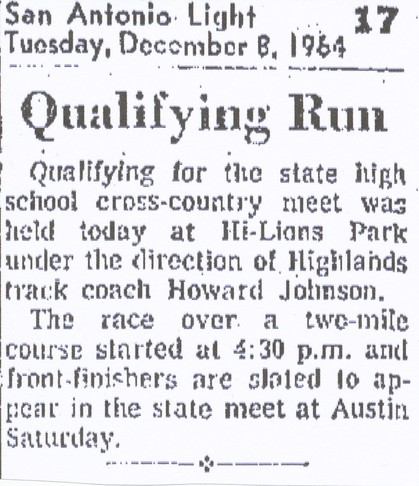 San Antonio Express - Wednesday, Dec. 9, 1964